Click HERE to view Pictures and Information about Real Ghost Towns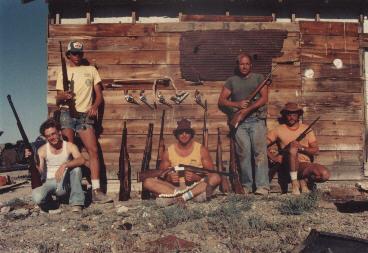 The Ghost Town Hunters 1981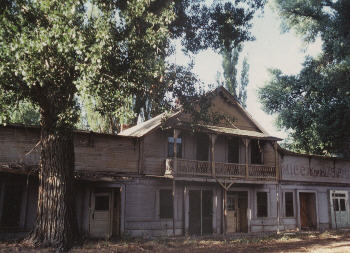 A Great Looking Ghost Town Building
This site is the place to view old, abandoned, western ghost towns as they appear today while listening to some great oldies music. This page provides information about our trips and why we do what we do. It was written by Steve Ricketts who built the Cheap Jeep and organizes the yearly trips.
If you would like to learn about our Cheap Jeep Click HERE
If you would like to view some real, abandoned ghost towns Click HERE
I have always had a love for camping and investigating old, abandoned ghost towns. Motorhomes, designated campsites, and tourist ghost towns are not what our trips are about. Perhaps when I get too old to "rough it", I'll reconsider my camping methods. But for now, I will continue as I have since 1972. Almost every year since 1972, I, along with 3 or 4 of my friends, have been searching for totally abandoned ghost towns and mining camps. The last town of the day is where we usually spend the night.
Our trips are well planned and cover a lot of territory. In a typical week it's not unusual to travel over 2500 miles...most of which are off road. We usually visit no less than 15 different "real" ghost towns and mining camps. Investigation of four or five large mines is not uncommon during one trip. Two or three large graveyards are usually found. Most towns are located high in the mountains. This makes for cooler weather and nicer scenery. Water and baths are where we find them. Sleeping is usually under the stars unless we hit rain...then it's into one of the buildings for us.
Artifacts are found...some old...some new. Values vary. Most of them stay where we find them. We have no room in our "Cheap Jeep" to bring much back. We took a small trailer once, however, it really slowed us down. When loaded, we couldn't climb some hills. Therefore, we had to leave the trailer behind and return for it later. This backtracking usually cost us several hours of daylight. We don't necessarily leave a town by the same route we entered it.
The type of ghost towns we seek are "true" ghost towns. No one has been there in several years. If even one person is still living there, we move on to the next town. I sometimes say that we could burn the towns we visit to the ground and no one would know. Of course we would never do that...but the statement gives a good indication of how secluded these ghost towns are. After driving some distance on a two lane paved highway (where you see one or two cars an hour), we will turn onto a dirt road and travel anywhere from 20 to 150 miles across the desert and mountains.
I am often asked if we have ever found anything of value. I know in my heart that we have "crossed" over millions of dollars in gold and silver. Some of it undiscovered minerals, and some of it hidden treasure. Several months after one trip in the mid 70s, I read a small back page article in our local paper about a "discovery" in Nevada. It seems that the Nevada highway department "leveled" one ghost town that we had visited eariler that year. Under the floor of one of the buildings we were in, they discovered over $4,000 face value in old coin and $20 gold pieces. By today's standards, that find was valued at over $30,000! We walked on that floor! Did I take a metal detector the following year? You bet I did! However, due to the fast pace of the trip, my friends were done exploring the town while I was still digging up rusty cans in the first building. Since I didn't want to slow us down, I never took a metal detector after that year.
On another trip, as we were leaving a town in the mountains and driving toward the valley floor, one of the guys looked back and noticed something shining on the side of the mountain. Since trees don't shine, we turned around to investigate. The shine turned out to be sunlight glaring off a metal roof of a ranch house. As we continued toward the ranch house, we observed 15 to 20 old model A, model T and other old cars in various stages of disrepair. Considering the circumstances, some vehicles were in decent shape. We even got a 1940's Dodge 4 wheel drive stake bed truck running. We couldn't go anywhere since the driveshaft was missing. We also discovered three other buildings on the property. These were full of old car parts, most of which were brand new and still in their original boxes. Obviously, this was a valuable discovery...which had to be owned by someone. The car parts had been pulled from the shelves and lay in disarray around the buildings. The ranch house had been vandalized. From the dust and cobwebs, we determined that the furniture had been thrown through the windows about six months prior to our arrival. No one was anywhere to be found. We camped there that night. In fact, we camped there one night every trip for the next three years. Nothing ever changed. The cars and parts remained as we found them. Even our firepit and the makeshift table we built in the middle of the "road" remained untouched. On the fourth year, we discovered that someone had removed almost everything of value. Did we miss our opportunity for profit? Perhaps. My "gut" feeling was that some old guy owned all of this and had probably wandered off somewhere and died. The last thing we wanted to happen was to be stopped by the Highway Patrol as we were towing the vehicles back to Los Angeles. At the very least we would probably be accused of theft - at the most, murder!
Space is limited in the Cheap Jeep. Therefore we don't take "luxury" items like a gas stove or a tent. We build a campfire from available material and hope it doesn't rain. Since we are so far from civilization, good fuel management is a necessity. With our two fuel tanks, we can travel almost three days without additional fuel. Tools and spare parts are taken. If anything breaks, we must fix it. If we get stuck, we must break free through our own efforts. Outside help was not available to us until the addition of high power cellular phone sites along major highways. If we are high enough on a mountain top, we can sometimes hit a cell 70 miles away. We also carry a hand held aviation radio, a personal locator beacon (PLB) and several GPS receivers. A call for help would result in a rescue...but the Cheap Jeep would most likely have to be left behind.
Planning these ghost town trips is a chore unto itself. I do a lot of book and map research. I use U.S. Geological Survey Topo maps in conjunction with aviation sectional charts to help pinpoint areas of interest. I program the town's map coordinates into a GPS. This aids us in our search during the trip. Discovery of towns, mining camps, ranches, and anything else not on our schedule is entered into the GPS for future trips. As a pilot, I will sometimes fly the KD Radio airplane over possible locations before and/or after our trip. A flight before the trip will verify a town's existence and a possible road into it. From the air we can determine if any additional buildings or mines are in the area. A ground search in the Cheap Jeep would take most of the day to acquire the same information. A flight after the trip will tell us where we went wrong if we didn't find a town that we know exists.
Many towns that have been abandoned for years are once again populated today. Although some retired people have started living in these old towns, most of the time the new population is made up of modern day mining company employees. When the ghost towns were first abandoned in the late 1800s, the value of gold and silver was much less than it is today. 1800s technology didn't make it cost effective to continue operating. With today's higher mineral value and new mining technology, it is once again profitable to go back to these locations and resume mining. Usually, unless it's a really large operation, the modern day mining company will only be there for a few years before they cease mining. The ore may run out, the value of the ore may fall, or the company may go bankrupt. Whatever the reason, a "newer" ghost town is left abandoned. We often find new buildings and vehicles of all types...including large tractors and earth moving machines...all abandoned
Now you have a good idea what happens on our ghost town trips. We usually have four people in the Cheap Jeep, but on rare occasions in the 80s have had five. These trips are a lot of fun and very inexpensive. With the ever increasing cost of gas, the average cost per person has risen from $150.00 to around $220.00. In 1996, KD Radio produced a video called GHOST TOWN TRAVELS which has been aired around the country. It is no longer available for sale, but can be seen on this website.

Visit Some REAL Ghost Towns

Learn About Our Cheap Jeep

Ghost Town Travels Video

Home Page